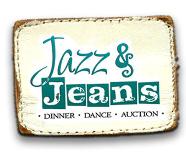 The Foundation's Jazz & Jeans dinner and auction is on Saturday, April 27, from 6-10 p.m. at Jefferson College-Hillsboro.
Tickets cost $75 per person. Tables accommodate ten guests. Proceeds from the premier event will be used to fund scholarships, emergency student loans, textbooks, and other projects to benefit Jefferson College and its students.
Doors will open at 6 p.m. with a social hour, followed by dinner at 7 p.m., dancing/listening to the sounds of the Jefferson College Jazz Band, and a silent auction with items in all price categories. Among the variety of items featured in the silent auction will be gourmet dinners, themed baskets, and a raffle for an iPad Mini.
The special evening will be highlighted by brief remarks from President Emeritus Dr. Ray Henry; alumni Sheryl Abernathy Pendergast, Carrie Flesh, Nancy Johnson, and husband/wife Joseph and Maria Pilger.
Click here to purchase tickets online or to sponsor the event, or call the Foundation office at (636) 481-3105 before April 17th.
As of April 8, 2013, sponsors of the event include:
18 Karat Gold ($5,000)
Dobbs Tire & Auto Centers
Mercy Hospital Jefferson
Dr. Mark H. Spurrier
14 Karat Gold ($2,500)
Commerce Bank N.A.
Coventry Health Care


12 Karat Gold ($1,500)
Bank of Hillsboro
Brockmiller Construction
Carpenters District Council of Greater St. Louis
Tom and Vicki Burke
Eagle Bank & Trust Company
Horner & Shifrin, Inc.
Dr. & Mrs. William Kennen
Production Castings, Inc.
Sheet Metal Contractors, Inc.
Twin City Toyota
Vest Benefit Solutions